When choosing the right resume writer it is important that you select a Certified resume person. Karen is the Director with two certifications, plus university and college education in addition to many years of full time work experience. She has been published in several books and is a Founding Member of Career Professionals of Canada (2004).
Karen plays an influential role to enable job candidates to find new jobs quickly. Karen visualizes what she can do to benefit the client the most. She thinks about where they want to work, how far it is from their residence, and can find job postings for you.
She demonstrates her writing talent using persuasive action words and keywords. In doing so she is able to capture and interpret exactly what the client needs to convey to an employer to show how he or she can add value. So who are you going to contact to do your resume and cover letter?
Give us a call at 416-226-0460, and/or email today for a resume update or new resume, cover letter, or other career documents at: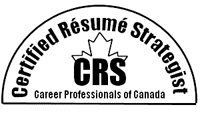 We are a top-rated resume company that began in 1994 serving people worldwide with certified professional resume writing. Career documents are written from entry level to executives without using templates. Each is customized and tailored to the client's industry.
​
We create your resume and cover letter to highlight your achievements, experience and career goals to give you a better chance at getting an interview.
We have 26 years' expertise in structuring resumes and cover letters for a broad variety of industries.
We are focused on getting you noticed to stand out among the competition to help you get an interview and land your dream job.
The Process and Our Qualifications, Credentials ...
Our clients receive excellence in customer service and in communications. We focus on helping our clients to secure employment and care about their success. Resumes are prepared by CPRWs and CRSs – this means that they are Certified Professional Resume Writers and Certified Resume Strategists. They will spend many hours on writing about how you can add value to an employer. There is a good chance that our writers have worked in your industry or have developed resumes with your job title and industry prior to you becoming our client.
​
We are proud of our accomplishments; awards received and stand out from the competition within the industry with our talented writers and experts. We network, connect clients and are in affiliation with the Professional Association of Resume Writers and Career Coaches (PARW-CC), and with Career Professionals of Canada (CPC). AWR follows a Code of Ethics. Professional fees are paid at the time of ordering; all sales are final.
Ready to get started?
Land your dream job faster with the help of our exception resume writing services.